Potato Chips Manufacturing Project Report
Potato Chips Manufacturing Project Report
How to Start a Potato Chips Industry
Dear friends,
Today we know about the Potato chips manufacturing project report. In today's time, many people are fond of eating potato chips and chips are also used as snacks. Nowadays there are many brands of chips in the market, big chips companies are earning millions of crores by trading chips.
Therefore, if you also want to start the business of the potato chips industry, then you can get a lot of profit in this business. You can start this business from your home. You can also use Chips making machine to make chips. This is a long-lasting business, today we are going to give you information about how to set up a potato chips factory sitting at home.
Raw material for potato chips industry
The main raw materials are potatoes and consumables are, chili powder, oil, salt, and utensils for making chips. You can make many types of chips from this material like – normal potato chips, Kurkure chips, Chili chips, masala chips, spicy chips, etc.
Cost of materials for making chips
If you want to take a sweet potato, then you have to spend a little more on it, you get the price of sweet potato about 4500 rupees quintal.
And for making chips, the price of oil is available from 120 to 130 rupees per liter. The price of salt is 18 to ₹ 20 kg, and the cost of chili powder is ₹ 180 per kg. You can buy all these ingredients from the open market.
Where to buy the ingredients for making potato chips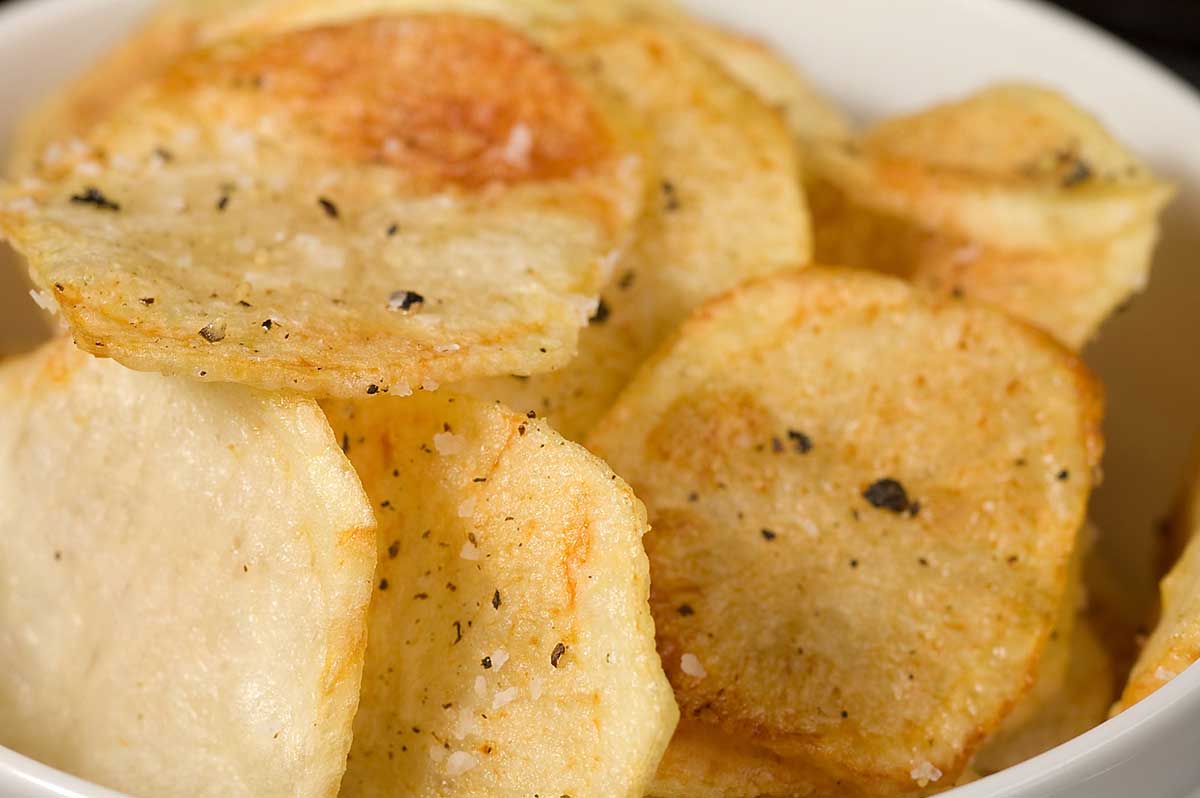 You can buy them from the wholesale shop, here you will get all the things very easily. Here you can purchase at a cheaper rate than traders. If you want to take it from somewhere else then you can take it.
Making chips at home on a small scale
You need simple potatoes, for making potato chips. Potatoes are also available from the wholesale shop for about ₹ 12 per kg.
Potato Chips Making Machine
You need a machine to do the business of making potato chips fast. You can start the business of making chips with a potato slicing machine. If you want to start this business on a large scale, then you need a big machine. However, you can start this business with a small machine also called a hand slicer.
Price of Potato chips making machine.
The small Chips making machine will be available for Rs. 35,000 to Rs. 40,000.
Chips manufacturing process
The manufacturing process of potato chips is very simple. You can start the business from home. Here we are going to tell about the method of making raw potato chips.
First of all, you need to buy potatoes. Potato is the main raw material for chip manufacturing. The process goes through:-
To clean the potatoes well.
Peel them well through the slicer.
After making slices, you need to wash and dry the slices with clean water.
After drying the chips are fried in oil.
While frying the chips, you have to keep in mind the temperature of the oil, it should neither be too high nor too low. You have to cook the oil on a normal flame.
Then fried chips are kept on an oil absorber.
You have to add red chili, salt, etc. to the fried chips, after that, your chips will be ready for packaging and sale.
Location for making chips
For well running the unit space requirements will be at least 200 square meters or you can choose a large room where you can install the machine. This chips making machine is also automatic.
Cost of making potato chips
You have to spend Rs. 80,000 to 1 lakh minimum. Because
without machine production of chips will be reduced. Your profits will also be less.
Registration for this business
For making Potato chips, you have to take udyam registration from the udyam registration portal.
You can register your business under MSME by the Government of India and along with this you also need a trend license
You have to open a current account.
You need a PAN card.
You have to get an FSSAI license.
Profit in the business of making chips
You can get a good profit by doing this business. Big companies are making good profits by selling chips in the market.
Although only a small quantity of chips are present in the packet, and the cost is Rs 10, but due to their good quality, they are selling more and more, so your quality of Chips is also good, then your business of chips will also be very good.
Your chips making by machine, you can get a monthly profit of 30,000 to 40,000 rupees
From a small-scale industry, you can get a maximum profit of 5,000 to 6,000 monthly. With setting up your profit becomes equally big.
Marketing the business of making potato chips
Marketing is the most need for this, you have to send samples of your chips to the market.
If the market likes your samples, then they can deal with you, you can send samples of your chips to big companies and get orders for chips from there too.
If you have quality in your chips then your business can run very well. You can supply your chips to big shops. There are many such snacks shops inside the city.
Where you can sell your chips, your chips are tasted and quality is ok then you will be liked to take your chips. Apart from this, you want to promote your chips business
Then you have to go advertising system. Printing of banners and posters is a system of advertisement. So that people will know about your business and you will benefit immensely.
Chips packing in Potato Chips Manufacturing Project Report
Potato chips are a spicy substance, you have to pay special attention to packing them, often people are very much attracted by seeing the packing of chips.
If you are starting the potato chips industry, then for that you can think of some good name for your chips and get them printed on your packing pouches with some special people.
Print the name of your chips on your envelope and sell them in the market. You can also get good publicity for your chips and they also get sold because of their good looks. You have to use chips packing machine for packing chips.
So, friends, this was some information related to the business of making potato chips by hand and chips making machine, if you want to get any information related to this, then you can also ask in the comment box or mail us.
Thanks for reading.
You should read these posts:-